STREAMLINE YOUR BUSINESS PRODUCTIVITY

WITH MICROSOFT 365
In order to thrive in the business world, your company needs to adapt and improve its processes on a regular basis. Integrating new technologies is the key to keeping costs low, revenue high and customers satisfied.
At Applecart Digital, we help you achieve these goals with the power of Microsoft 365. We specialise in helping small and medium businesses to use the tools that large businesses have been using for years. We can help you integrate the Microsoft 365 suite into your business processes, helping your team to work more effectively.
We provide technological solutions that are driven by your business needs, and this is how we do it.
OUR APPROACH TO
MICROSOFT 365 INTEGRATION
Based in Brisbane, Applecart Digital will sit down with you to discuss your business and analyse any problems you may have.

Using this information, we select solutions from the Microsoft 365 Business suite to fulfil your needs and form part of an overall long-term solution. Working together with you, we'll then create a roadmap to implement these solutions one at a time.

Our agile approach allows us to develop a custom solution that fits your business requirements. Whether it's Microsoft Outlook or the complete Microsoft 365 suite, we can help you to adopt newer, more efficient business processes.

Microsoft 365 is Microsoft's state-of-the-art enterprise IT solution that is now available for small and medium businesses. Encompassing a range of cloud-based software including Exchange Online, SharePoint Online and OneDrive, the Microsoft 365 solution is changing the way businesses work.
Microsoft 365 keeps you connected and lets you work from anywhere without having to worry about maintenance. At Applecart Digital, we can consult, implement and provide support for the Microsoft 365 suite of products
.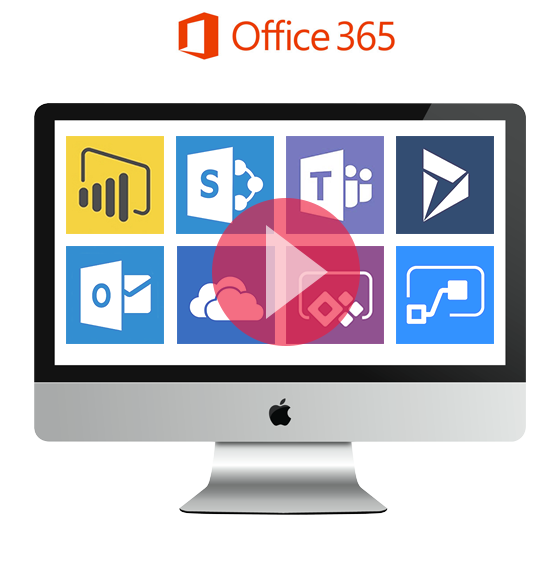 Connect to everything from everywhere.
Don't worry about servers and maintenance

Work anywhere from any device

All your apps in one place

It'll grow with your business

Global 24/7 support network
Whether you're a small business or a large operation, everyone can benefit from Microsoft 365 Business Integration. Our services can help you improve your processes, automate your tasks and get more done every day.
Check out the section below to see just some of the clients we have helped out before.
"Applecart Digital automated our Quality Assurance program using SharePoint and MS Flow which is set to save us 100's of hours in administration. The end result and ongoing support exceeded our expectations and we have already engaged with them to implement the same ideas and more in other departments within our business."
We have thrown all sorts of projects at the team at Applecart, from simple websites and WordPress integrations to app development and Sharepoint management/projects. Every time they have impressed us with the solutions they have come back to us with.

They are thorough and professional. I have always been confident that they have found the most cost effective way to solve a problem and that they have delivered a secure, bug-free solution. We have been a happy client for several years!
With most of us moving to our home-based 'office' set up to weather the COVID storm it is important to keep running our businesses in [...]
What's the Hub-Bub about? Microsoft's SharePoint has always been a popular Content Management System for company intranets and internal document sharing. But what happens [...]
Get a digital boost with the Government Grants Program 2018 There's some fantastic digital tools available for businesses to increase their productivity, improve their marketing, [...]
Do you want to improve your business processes with the latest technology? Tell us what you need and we'll develop a custom solution.
Leave us a message below or call Applecart Digital on 07 3102 2802 today.